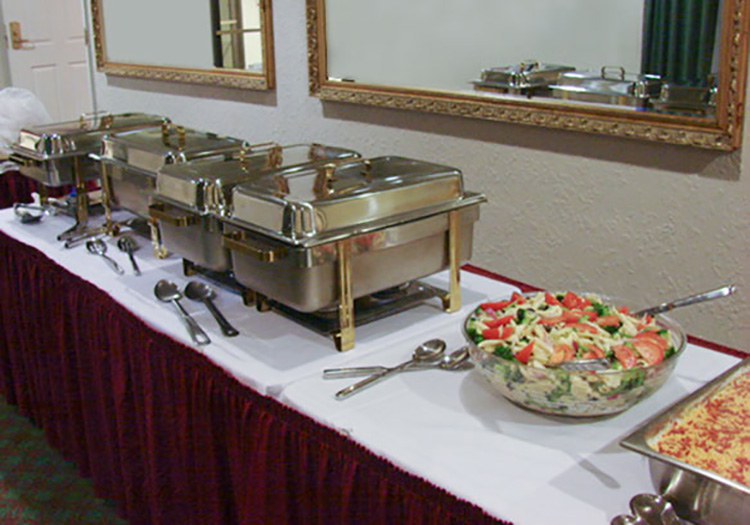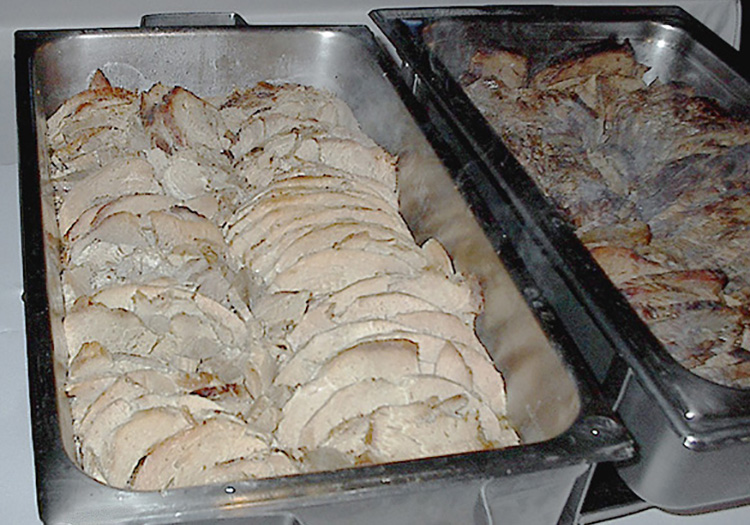 Buffet: Hot Meals
(groups more than 100 people)

Choice of 1 Meat: $16.00 per person
Choice of 2 Meats: $18.00 per person
Plus gratuity and sales tax. Subject to a small order charge.
Meats - 100+ guests
Roast Beef
Roast Pork or
Pork Loin
Baked Ham
Turkey & Dressing
Chicken Breast & Wild Rice

Meats - under 100 guests, also includes these options

Beef Stroganoff
Swiss Steak
Meatballs
BBQ Ribs
Meatloaf
Salisbury Steak
Baked Chicken
Stuffed Pork Chops
Scalloped Potatoes & Ham
Hawaiian Chicken
Potatoes - choice of 1
Garlic Mashed Potatoes
Mashed Potatoes & Gravy
Scalloped Potatoes
Augratin Potatoes
Parsley Potatoes
Cheesy Hashbrowns
Salads -
100+ guests: choose 2
under 100 guests: choose 1
Fresh Fruit (in season)
Fruit Salad (canned tropical fruit, mandarin oranges, pineapple tidbits, apples, and bananas with clear dressing or cool whip)
Marinated Vegetable Salad (broccoli, cauliflower, carrots, cherry tomatoes, and creamy Italian dressing)
Macaroni Salad (peas & cheese)
Italian Pasta Salad
Coleslaw
Relish Tray
Tossed Salad
Six Bean Salad
Ambrosia Fruit Salad
Pistachio Salad
Cranberry Salad
7-Layer Salad
Red Jell-O Salad (whipped with strawberries, bananas & cool whip)
Vegetables - choice of 1
Mixed Vegetables
Corn or Calico Corn
Green Beans
Green Bean Casserole
Peas & Carrots
Glazed Baby Carrots
Peas & Onions

Also Included

Rolls & Butter
All Paper Goods (Plates, Silverware & Napkins)
Prices are subject to change.